Buyersguidechem.com - Chemcial suppliers and producer directory
Website: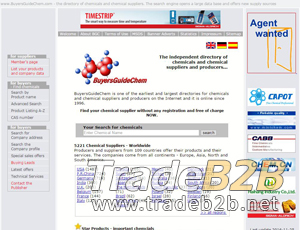 BuyersGuideChem is a directory of chemicals and chemical suppliers on the Internet. It is online since 1996. Now it is one of the leading directories on the Internet.
Buyers of chemicals can search Buyers Guide Chem for the products wanted by product name or by CAS registry number. The 'Advanced Search' can be used to select specific product groups. All readers can send inquiries to the producers online. The included inquiry form allows a rapid and complete request to the supplier. All this is free of charge.