Bestb2b.com - China free b2b website
Website:
Bestb2b.com is the largest Chinese network of free B2B platform. Has a large number of loyal users! In the development process, Bestb2b has gained great support from various aspects and users. Now, It is developing rapidly. During this period, Bestb2b has increased information and information. Bestb2b's community provides a lot of entrepreneurial knowledge for entrepreneurs and young entrepreneurs. Reading and communication. Interest in the development has always insisted on abiding by the laws and regulations of the People's Republic of China, adhere to the purification of the network environment, our goal is to continue to promote our people at the same time to bring their own affordable user experience.
The development of the network is also the network of the two founders of life trajectory of the perfect journey. For a better life, Bestb2b.com will spare no effort to provide better service!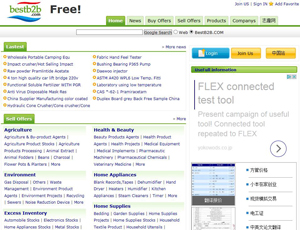 ‍