Steelads.com - Metal Steel B2B Marketplace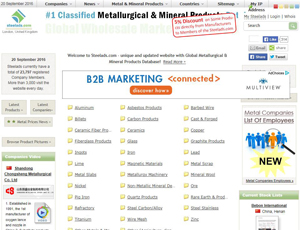 Website:
http://www.steelads.com
Steelads.com is an International B2B Online Metal Marketplace.Provide Aluminum, Metal Scrap, Carbon steel, Stainless Steel Products trade leads and METAL PRICES NEWS.
Steelads.com owner is Delta Consultants (Registered in Roseau Valley, Commonwealth of Dominica - Reg No. 11755) and has its database registered in London, England, United Kingdom.
Most websites of this kind provide only a few details of products, companies, technical standards and other important details. Steelads.com is easily the most comprehensive that has been made so far and it uses the latest technology. So that vital information is now available for Buyers and Sellers.
About
Steelads.com - Metal Steel B2B Marketplace
's recommend,only on behalf of the views and opinions about
B2B Directory
, if you have any suggestions , please feel free to contact with us, we will amend and correct them in the first time according your suggestions. More better
B2B Websites
recomend, Please
click here
.